Last modified on 2016-09-15 18:28:17 GMT. 0 comments. Top.
Taste of Old Pasadena 2016 | Tuesday, September 20th 5:30-9:00pm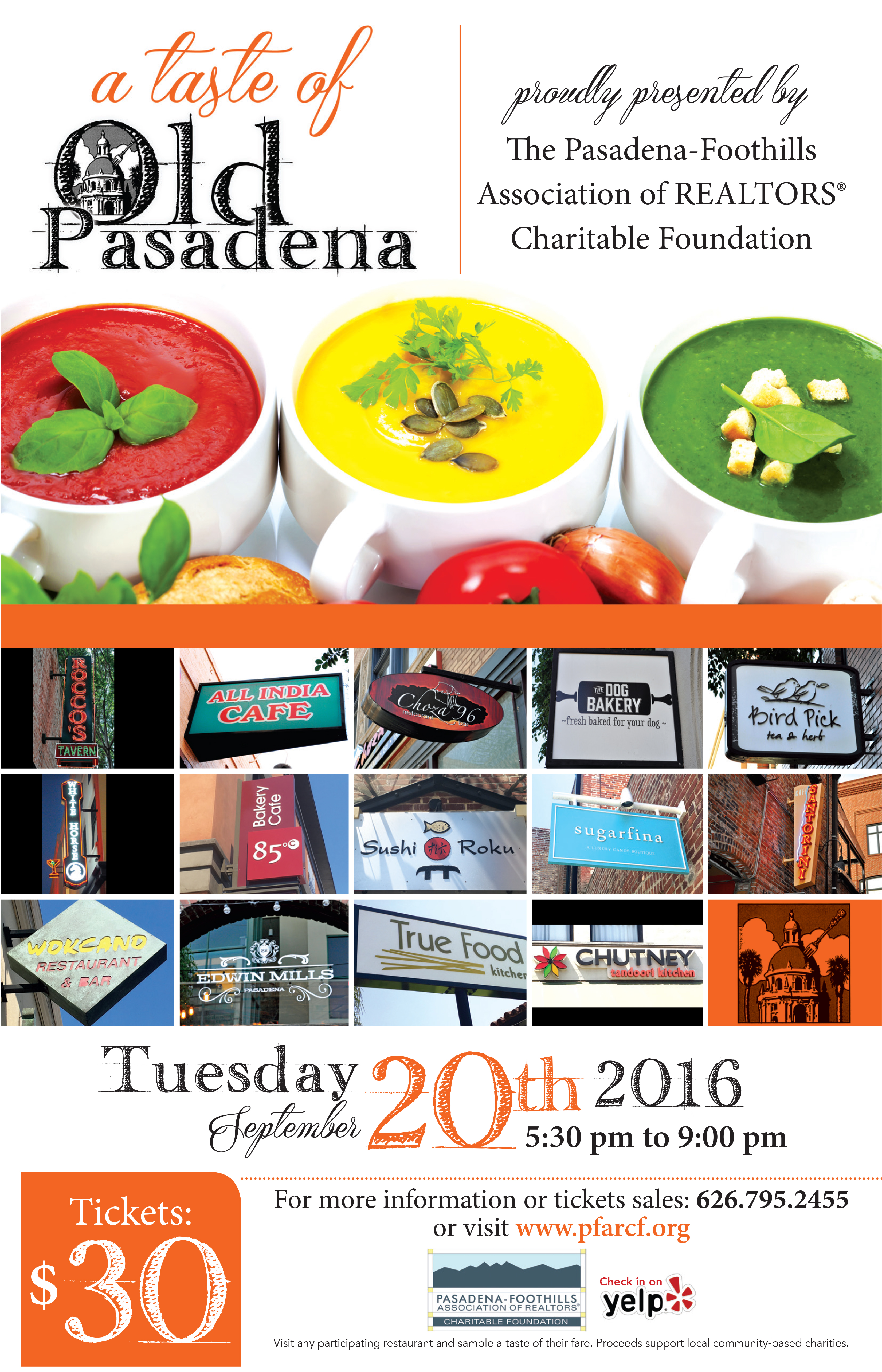 One of the more unique "Taste of Events" in California invites participants to enjoy an adult-style "trick or treat" event during which participants can walk between 30 cafes in Old Pasadena and sample a variety of tastes along the way. Savory appetizers, innovative salads, delectable entrees, sweet desserts, exotic flavors – all can be found at establishments likes of Cafe Bizou, All India Cafe, and more than 30 additional Old Pasadena eateries. 100% of the proceeds go to local charities and scholarships.
Each participating restaurant has maps to guide you, or you can just follow the signs in front the restaurants, cafes, and bistros. A Taste of Old Pasadena is the perfect opportunity to experience many of the exciting new and well-established restaurants in Old Pasadena in one evening.
Tickets are available at Pasadena-Foothills Association of Realtors, 1060 E. Green Street #100, Pasadena, CA or sold the day of the event in front of select restaurants.
2016 Taste of Old Town Pasadena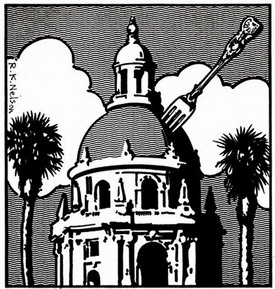 Participating Restaurants
85ºC Bakery Cafe
All India Cafe
Bird Pick Tea & Herb
Cafe Santorini
California Chutney
Choza 96
The Dog Bakery
Edwin Mills by Equator
Rocco's Tavern
Sugarfina
Sushi Roku
True Food Kitchen
White Horse Lounge
Wokcano
$30/person
Throughout Old Pasadena
5:30pm-9:00pm
http://pfarcf.org
626.795.2455
Last modified on 2016-09-15 20:53:36 GMT. 0 comments. Top.
"Honest food that tastes really good."  TrueFoodKitchen.com
True Food Kitchen is located in Old Town Pasadena, on the Southwest corner of Colorado Blvd and S Pasadena Avenue, at 168 E. Colorado Blvd.
True Food Kitchen is a quickly expanding, health-conscious chain with more than a dozen locations across the country. True Food Kitchen was opened by Phoenix-based restaurateur Sam Fox, who currently operates 46 restaurants within 15 concepts. True Food Kitchen offers a wide, healthy selection of vegan, vegetarian, or gluten free options for everyone. Popular dishes are their kale and quinoa salads, with their claim that they offer many healthy benefits. At True Food Kitchen, they want you to feel better, live longer, and make your mouth happy in the process.Dishes are influenced by Mediterranean, Asian and Californian cuisine, and include soups, appetizers, salads, pasta, rice and noodle dishes, wood grilled dishes, sandwiches and burg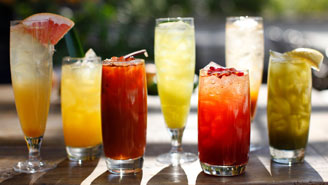 ers, brick oven pizzas and desserts. True Food also offers a list of organic wine, beer, and hand crafted cocktails.Engrained in True Food Kitchen's ethos is a commitment to a conscious, community-based dining experience – a commitment that ensures that, no matter how many locations are established, True Food will never become what one thinks of as a "chain."
True Food MenuBrunch/Lunch/Dinner/Dessert/Kids
True Food Pasadena166 & 158 West Colorado Blvd.
Pasadena, California 91105
480.905.6920  All True Food Locations