Marina del Rey is an affluent unincorporated seaside community and census-designated place (CDP) in Los Angeles County, California. A Westside locale, the population was 8,866 at the 2010 census. Fisherman's Village offers a view of Marina del Rey's dominant feature, the Marina, the world's largest man-made small craft harbor with 19 marinas with capacity for 5,300 boats and is home port to approximately 6,500 boats. The harbor, the Los Angeles Times said in 1997, is "perhaps the county's most valuable resource".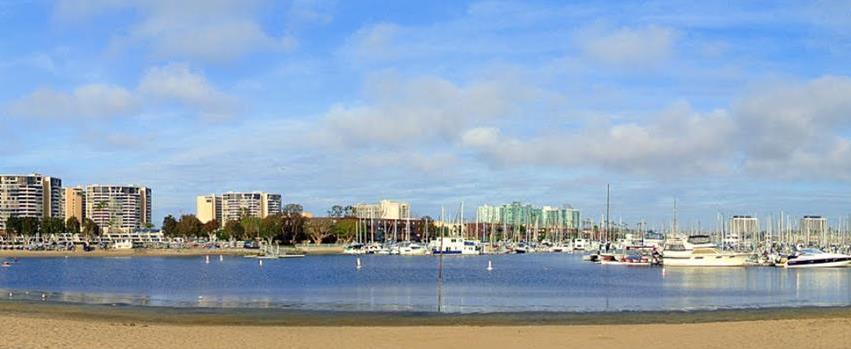 Prior to its development as a small craft harbor, the land occupied by Marina del Rey was a salt-marsh fed by freshwater from the Ballona Creek, frequented by duck hunters and few others. Burton W. Chace, a member of the Los Angeles County Board of Supervisors, referred to the area as mud flats, though today the area would more properly be referred to as wetlands.
In the mid-19th century, M.C. Wicks thought of turning this Playa del Rey estuary into a commercial port. He formed the Ballona Development Company in 1888 to develop the area, but three years later the company went bankrupt.
In 1916, the U.S. Army Corps of Engineers revisited the idea of a commercial harbor, but declared it economically impractical. In 1936 the U.S. Congress ordered a re-evaluation of that determination, and the Army Corps of Engineers returned with a more favorable determination; however, the Marina del Rey harbor concept lost out to San Pedro as a commercial harbor and development funding went to the Port of Los Angeles instead.
Duck hunting on the Ballona lowlands in what would become Marina del Rey, 1890.
In 1953, the Los Angeles County Board of Supervisors authorized a $2 million loan to fund construction of the marina. Since the loan only covered about half the cost, the U.S. Congress passed and President Dwight D. Eisenhower signed Public Law 780 making construction possible. Ground breaking began shortly after.
With construction almost complete, the marina was put in danger in 1962–1963 due to a winter storm. The storm caused millions of dollars in damage to both the marina and the few small boats anchored there. A plan was put into effect to build a breakwater at the mouth of the marina, and the L.A. County Board of Supervisors appropriated $2.1 million to build it. On April 10, 1965 Marina del Rey was formally dedicated. The total cost of the marina was $36.25 million for land, construction, and initial operation.