<—-
GO BACK TO GREATER LA CITIES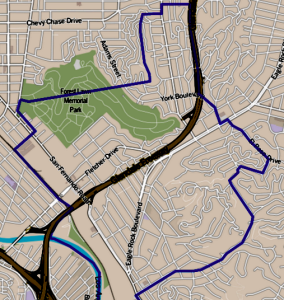 The land that would later become Glassell Park was originally part of Rancho San Rafael, granted in 1784 to Spanish army corporal José María Verdugo. Attorney Andrew Glassell received part of Rancho San Rafael from the lawsuit known as the Great Partition of 1871. Glassell eventually settled in the area with his family, for whom many streets, including Toland Way, Drew, Andrita and Marguarite Streets are named.[11]
The development of Glassell Park began in the early 20th Century, as subdivisions between Verdugo and San Fernando Roads began to be sold in 1907. In 1912, the city of Los Angeles annexed most of Glassell Park, annexing the remainder in 1916.[12] The Glassell family continued to subdivide their land, selling off what is now Forest Lawn Memorial Park during the Great Depression. The growing neighborhood was served by a line of the Los Angeles Railway, which traveled in the median of Eagle Rock Boulevard towards Eagle Rock.[13]
Glassell Park became a center for gang activity in the 1970s, leading to the arrival of the Avenues. In 2008, more than 500 officers and federal agents arrested 28 gang members located in Glassell Park.