Looking to purchase a property within Los Angeles County? Contact us to schedule a free buyer's consultation over the phone or at our office. Call Ramiro & Erica at 626-497-4606 or 818-257-1054 for an appointment. You can also submit your buying wishlist down below.
---
YOUR DREAM HOME AWAITS
Buying a Pasadena Area/Los Angeles County, CA home is an exciting and complex adventure. It can also be a very time-consuming and costly one if you're not familiar with all aspects of the process, and don't have all the best information and resources at hand.
One of our specialties is representing the best interests of buyers throughout the home buying process. Our comprehensive, high-quality services can save you time and money, as well as make the experience more enjoyable and less stressful.
If you're like most people, buying a home is the biggest investment you will ever make. So whether you're buying a starter home, your dream home or an investment property, why not take advantage of our experience as market specialists for Los Angeles County to make the most informed decisions you can, every step of the way?
We also have excellent referrals if you are in need of getting pre-approved with a lender. Our trusted mortgage partners have excellent loan programs with low interest rates for qualified buyers.
Last modified on 2016-02-16 22:24:08 GMT. 0 comments. Top.
Current rates courtesy of Daniel Arias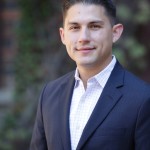 Sr. Mortgage Banker | Madison Lending Group
323.697.3240 Cell | danielariasloans.com | NMLS ID #461805 | darias@madisonlendinggroup.com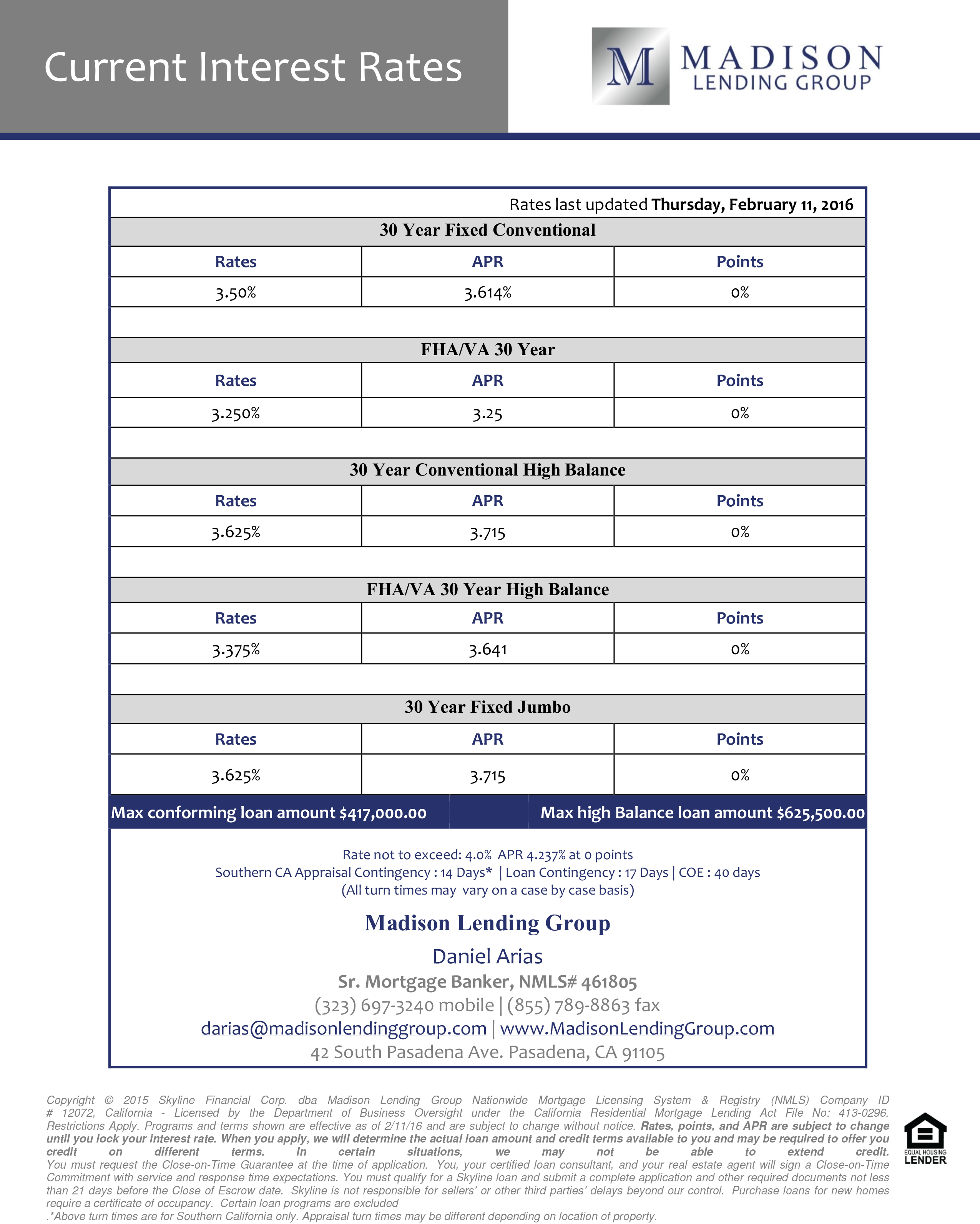 Below is a list of the Loan Programs that Daniel Arias and his team offers at Madison Lending Group.
Conventional Home Loan
A popular product for home buyers with good credit and money to put down. Skyline's conventional mortgages include: fixed-rate mortgages, adjustable-rate mortgages, and jumbo mortgages. These typically require a 5%-20% down payment.
FHA Home Loan
An excellent choice for first time home buyers. This program offers flexible guidelines that open the home buying market to more borrowers.
VA Home Loan
Military personnel have access to favorable loan terms and typically lower interest rates. Skyline prides itself on helping these men, women and family members achieve the goal of homeownership.
203K Renovation Loan
This program is designed for people interested in purchasing a fixer-upper. It allows you to include the costs of repairs and remodeling expenses into a single loan.
Jumbo
These loans are designed for buyers purchasing a home that is priced higher than the conforming loan limits.
Construction
Interested in buying a newly built home? Skyline offers a variety of new construction loans that offer security during the construction period.
Refinancing
Have you checked interest rates lately? Now is the time for you to weigh the costs and benefits of refinancing your mortgage.
Reverse
A reverse mortgage could be just what you need to supplement your income during retirement. Find out how you can leverage the equity you've been building in your home.
For additional home loan information see more Here or contact Daniel Arias
323.697.3240 Cell | danielariasloans.com | NMLS ID #461805 | darias@madisonlendinggroup.com